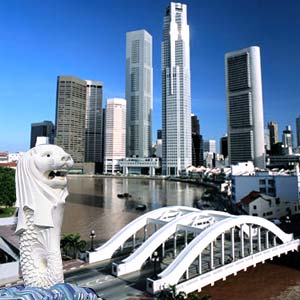 Countries woo Bollywood crews for on-location shoots in red carpet style.

Bollywood's doing the dhak dhak but this time, the backdrop to the heave-ho is zara hatke. Forget Simla, the waterfall-walla garden, Times Square and those familiarlooking Alps in Switzerland. Other countries are serenading Bollywood crews in red carpet style, with discounts, visa assistance and recce tours.

Italy, the eternal tourist hot spot, is now concentrating on wooing Bollywood for onlocation shoots. Winston Periera, Business Manager, Indo-Italian Chamber of Commerce, explains why. "This move was prompted because Indian cinema has now found a global platform and an increasing audience amongst non-Indians as well. Seeing the potential of this new emerging sector, our Chamber planned to expand our activities." Singapore, Hong Kong and New Zealand are among those which are now aggressively baiting Bollywood which they foresee will form an important portion of the Indian tourist pie. Everyone wants a bite out of this. As Edward Chew, Area Director, Western India, Singapore Tourism Board, says, "India is currently our seventh largest source market. We expect that it will continue to move up the rankings, given the increasing propensity to travel."

To lure Preity, Abhishek and co into doing the bootyshake in their exotic backyard, here's the bait: The Film-in-Singapore scheme offers financial support up to 50 per cent of the expected costs in Singapore according to the mileage given, while Italy has introduced discounts upto 70 percent on the hire of equipment.

"Hong Kong," informs David Leung, Regional director, South East Asia, HK tourism Board, "has set up a film services office as part of its Television and Entertainment Licensing Authority to facilitate film production and act as a one-stop shop for production houses." New Zealand's USP is that shooting costs there are 50 per cent of European and US costs.

And Bollywood's biting. Kaho Naa Pyaar Hai, Rehna Hai Tere Dil Mein, Soldier were shot in NZ, Company and Gumraah in HK, while another 3-4 films were shot in Singapore in 2003-2004. Neera Arora, Trade Development Manager, from the New Zealand High Commission adds that after Kaho Naa Pyaar Hai, even Tollywood and Mollywood came to New Zealand despite stiff competition from other filming destinations like Switzerland. Pereira estimates that Bollywood film production houses will pump in at least a cool US$ 1 to 1.5 million next year for on-location shooting in places like Umbria, Abruzzo and Campania. Howzzat for globe-trotting with jhankaar
beats?

Come into my parlour... How they're baiting Bollywood

SINGAPORE: Film-in-Singapore scheme offers financial support up to 50 per cent of the expected costs in Singapore. 3-4 Bollywood films shot here in 2003-2004.

ITALY: Discounts on various services like hire of equipment, some upto 70 per cent. Expect an investment US $ 1 to 1.5 million from Bollywood this year

NEW ZEALAND: Markets itself on the fact that shooting costs are 50 per cent of European and US costs. Visa and shooting approvals are processed quickly. Seen more than 100 Indian film crews in the past six years.

HONG KONG: Set up a film services office to facilitate film production. Gumraah and Company among those shot here.